Store
Snapping Stunning Skies: An Introduction to Digital Weather Photography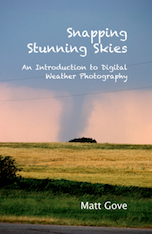 Coming to the Bookstore in 2016!
Interested in weather photography? Would you like a few tips on how to get your weather photos to really pop? Ever want to know how to photograph lightning or tornadoes? I am excited to announce a new book I will realease in 2016 - tentatively titled Snapping Stunning Skies: An Introduction to Digital Weather Photography. Weather photography has been a longtime passion of mine, so if you share similar interestes, be sure to check out my new book!
With over 10 years experience as a semi-professional photographer, and more than 8 years of photographing weather, I have been able to capture on film just about everything Mother Nature has to offer. A few of the phenomena you will learn how to photograph include lightning, tornadoes, thunderstorms, hurricanes, blizzards, and haboobs. In addition to covering how to photograph various weather features, I will share my own experiences photographing the incredible snowstorms that struck New England in early 2015, witnessing firsthand the EF-5 tornadoes that struck Moore and El Reno, Oklahoma in 2013, running into a haboob coming out of New Mexico, several close encounters with lightning in Florida, and much more.
The book will be released first as an eBook and will be available on Amazon and iTunes to start. It is currently on schedule for release in 2016, with the print version to follow. As of December, 2015, I am wrapping up writing it and have begun the editing process, so prices have not yet been completely finalized.
Published: Coming Soon
| | |
| --- | --- |
| eBook (Estimated) (Estimated) | $2.99 |
| Print (Estimated) (Estimated) | $13.99 |
Store Links
---
Featured Items
---
Coming Soon
---
Photo Prints
Merchandise
Free iPhone and iPad Wallpaper
More Books